Poltava apartment for rent.
Poltava 1 Apartment
This apartment is available ONLY to Euro Club clients.
Please click here for information on the Euro Club.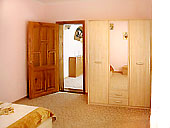 Remodeled 2 room apartment in the city center on the main boulevard. Kitchen features include fridge, microwave, stove and electronic kettle. Living room & bedroom areas are carpeted with modern furnishings and TV (with satellite English speaking programs). Bedroom has a double bed. Fully tiled bathroom with shower.
Apartments for Rent
Russian Apartments for Rent Colombian Apartments for Rent
Ukraine Apartments for Rent
[ List of Cities ] [ Info about Kiev ] [ Hotels in Kiev ] [ Location on Map ]

AFA News and Updates

The full 2019 Singles Tour Schedule is now posted! Now is the time to pick your tour or tours for next year! Book early and receive our special "Early Bird" bonus.
Now when you add more than $50.00 at a time to your account you will instantly earn a credit of up to 10 percent of whatever amount you added, plus up to a $100.00 credit towards a full Singles Tour each time you add funds!
AFA Tour Seminars - We Want to Meet You in Person! Multiple new destinations from Pheonix AZ to Orlando Fl. Valuable seminar only tour discounts, meet international dating experts, past successful tour clients, and much more! RSVP Today!